If you've never checked out Feasting On Art, you should do so immediately
. It really is one of the most inspired food blogs you'll find. So when it's creator, Megan Fizell, posted a
recipe contest
, I was SO there. The challenge? To create a recipe inspired by Renoir's still life titled, very appropriately, Strawberries. Creating recipes like this is the theme of Megan's blog and what makes it so wonderfully unique is her fantastic imagination. I decided if I were to participate, I'd have to pull out all stops and leave caution at the door. Thankfully, that's my favorite way to cook...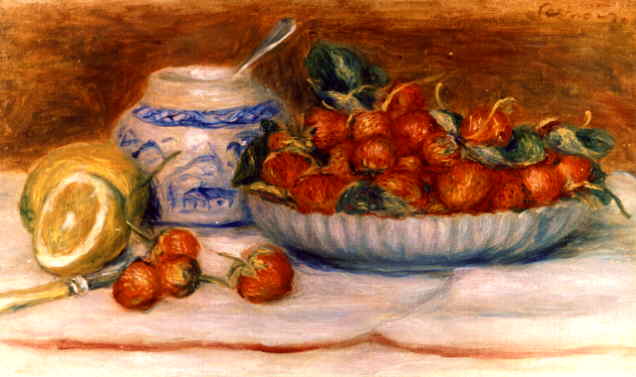 The inspiration: Renoir's Strawberries
I spent some time thinking about not just this painting, but the life of Renoir at the time of painting it, and the man himself. This piece was done near the end of his career, a time when he abandoned elaborate design and focused on the simple and ruffled beauty of natural still lifes of roses and fruit. There's a rustic and lush brightness in Strawberries. Something in it makes me think of a man that was content with his accomplishments and diving in to the simple pleasures within reach for us all, every day.
The PLC version of Strawberries
For me, the mention of Renoir recalls my Greek grandfather. He loved the impressionists, as he loved good food. He'd lived in Paris for years, worked in kitchens and as an apprentice tailor. I remember him drawing shaky renditions of art he'd seen, then in his 80s, on scraps of paper and explained in frustrated broken English. I also remember him bringing home
loukaniko
- a Greek sausage made with fennel seeds and orange rind. So I thought making some for this would be perfect, made with ground lamb. Seeing as I wanted to keep this simple, I wouldn't be going thru a full sausage-making process, however. Just some simple patties seasoned the right way would do.
Of course, the
loukaniko
patties by themselves really don't show much Impressionist Era inspiration (brown lumps, not really art-worthy). I used couscous because it reminds me of the daubs of paint impressionists use, and of the pointillism works of the time. I added the strawberries, roasted first to give them smokiness, and wild arugula to give it a nice peppery boost. I used a Lebanese couscous I found at a grocer - it's the largest I've ever seen and I just couldn't pass it up. Israeli couscous would work just as well, I'm sure, and be easier to find.
Recipe: Renoir's Roasted Strawberry and Arugula Couscous with Lamb Loukaniko
What you need to get...
For the
loukaniko
patties...
1 pound ground lamb (other ground meats work as well)
3 cloves of garlic, crushed
The zest of one orange
A splash of red wine (1 tablespoon or so)
Red pepper flakes (to taste)
1/8 teaspoon salt
1/2 teaspoon allspice
1/2 teaspoon cinnamon
1 teaspoon fennel seeds
For the couscous...
2 cups
cooked
Israeli couscous
1/2 cup shallots, sliced
2 cups wild arugula
1 cup hulled and halved strawberries
Juice of half a lemon
Salt and pepper to taste
On the side... Greek-style yogurt
What to do with it all...
For the loukaniko
, combine all the ingredients and form patties or links depending on your preference
I recommend broiling or pan frying on high heat (or grilling if available) until desired done-ness. Set aside, loosely covered in tin foil until ready to use. Reserve meat juice and fat to cook shallots.
For the couscous
, cook shallots on low heat either in meat juices from
loukaniko
or olive oil until translucent (4 -6 minutes)
Meanwhile, scatter strawberries in a cookie sheet with a lip, or onto tin foil (create a lip to catch juices) and place under broiler on highest setting. Watch strawberries carefully and remove as soon as there is some blackening. The time varies widely based on your broiler. Remove and set aside until plating your finished dish.
When shallots are translucent, add your cooked couscous, arugula, lemon juice and salt and pepper to taste. Turn burner up to medium and toss. Cook until heated thoroughly and arugula is slightly wilted (a couple of minutes).
Plate cous cous, top with
loukaniko
, strawberries and a dollop of yogurt!